If you're not a football fan, and especially if you are not a sports fan at all, you might have wondered about my post earlier this week drawing advertising sales management lessons from the NFL.
Because one player quit his multi-million dollar job, and one was suspended as a result of a history of hazing, I pointed to lessons from the NFL's greatest coach, Bill Walsh, who would not have tolerated any hazing behavior.
Advertising Sales is a Team Sport
It might be a good idea to pay attention to the example of the San Francisco 49ers, who won 5 Super Bowls, because we can learn from Bill Walsh's philosophy of management that comes from coaching.  When I assert that there is a lot to learn from Walsh, let me explain why.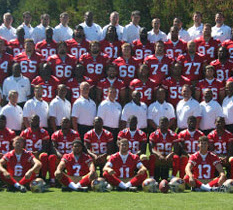 First, like NFL players who might compete with teammates for playing time and for salary, advertising sales people, too, are competitive internally among themselves.  But teams win and lose together.
It's easy to see that cooperation and mutual support among teammates would help win the football battles that lead to Super Bowls and to raises for whole teams of Super Bowl Champions.
It might need to be said that media companies, too, need to be built upon teamwork, because when it comes to advertising sales, advertisers tend to be like sheep.  The more one sales person is successful, another will find it easier to win business, because other advertisers will follow.  When you win advertiser X, a competitor will be wondering, "I wonder what they know that I don't, maybe I should be advertising there too."  So advertising sales people should be coached to collaborate, just like Bill Walsh preached; no hazing of rookies and walk-ons.  Walsh encouraged his veterans — whose job the rookies were hoping to win — to teach and encourage and support the new players.  And of course the results were good for everyone.
The same principle applies on the audience-building side of publishing.  Readers want to know what their friends know.  The more readers you have, the more you'll get.  When you publish a widely discussed and distributed piece of content, it builds the advertising value proposition and also makes it easier to distribute the next article or video.
And like the team dynamics of the NFL and other sports, when things go bad, they go bad for everyone:  When advertisers drop out and don't renew, that can be contagious, too.
I've previously read about coach John Wooden's philosophy of excellence that helped him lead the UCLA Bruins to 10 National Championships in 11 years. Now I've read about Bill Walsh's meticulous preparation approach in The Score Takes Care of Itself. At the suggestion of my friend Jim Elliott, soon I will be adding to my reading list with Phil Jackson's Eleven Rings: The Soul of Success for more inspiration. So standby for more sports analogies.
More advertising sales tips here.