It has never been so hard or so important to get a client-appointment to sell advertising. Conversely, because they are infrequent, sales calls are precious. When a sales person wins time with an advertising client or media planner or buyer, or their manager, not only do they win the opportunity to provide valuable market information that may shine a positive light on their media, to build a relationship, even to persuade, but they are taking up time that their competitor can't have.
To win the time and attention of influencers and buyers in the ad-sales game, it helps to understand them as well as possible. That is why I was so happy to receive the new study, jointly sponsored by Kantar Media's SRDS, and the James G. Elliott Company.
New Research
To understand the importance of sales calls, and especially sales calls on the client, consider these results from the survey of subscribers to SRDS media planning services:
60% say that "input from the client" is always "a resource used when preparing/selecting the list of media for consideration."  This is the highest of all reported sources, far above SRDS itself (27%) and above "research," the next highest at 56%.
54% say "client dictates" "always" or "often" are the cause of changes/turnover in a schedule.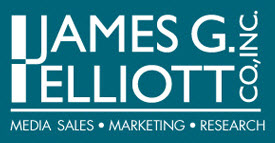 But all is not lost for sales people:  63% of the respondents did say they "always or often" get input from sellers/publishers.
It is no wonder that it's so hard to get those appointments.  Media planners and buyers are very busy people.  58% work on 4 or more brands, and 60% do both planning and buying, and they buy many, many different media:
86% researched, recommended, planned or bought Digital Media
75% for Consumer Magazines
75% for Spot or Local TV
74% for Radio
70% for Newspaper
50% for Business-to-Business
49% for National TV
27% Direct Marketing
You might notice this adds up to 506% (though they are not meant to be added) which tells us roughly that the average media planner/buyer is trying to know enough about 5 different media for, on the average, 4 different brands (58% personally work on 4 or more brands).  Of course these 4 brands are in different industries because agencies don't handle competitors.  So these planners and buyers are on a constant learning curve.
Does Your Team Need Training?
Now ask yourself, is your sales message sufficiently informative to be useful to these busy planners and buyers?  Or is your sales presentation like a bad blind date who talks about himself the whole time?  Is your sales presentation adding sufficient "value" to the conversation that a client would be glad to see it?
No ad sales training solves these problems as successfully as Strategic Sales Tactics, which provides training and tactics that engage and persuade as well as answers to your ad-sales problems that work in the hyper-busy early 21st-Century.  Learn more here.
For a copy of the study click here, and fill in the request in the left column.